The Different Types of Essays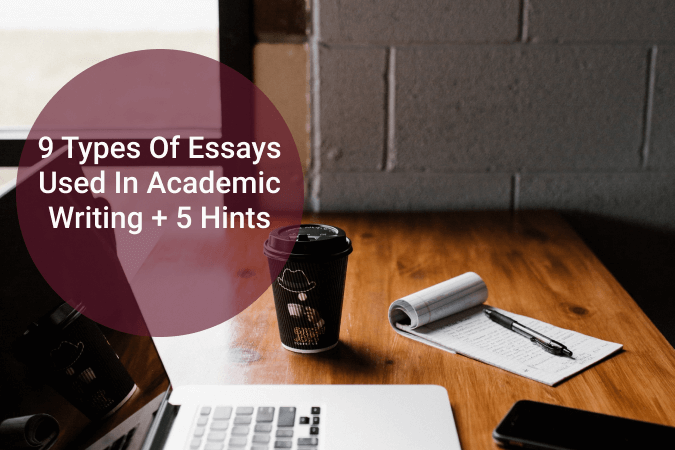 2020-05-21
An essay can be written in different ways depending on what goals you pursue and how are you going to achieve them.
Why do you need to know the different types of writing? This knowledge will help you write a paper in a certain direction. You will not randomly write down your thoughts, you will know exactly what to do further. For example, if you have chosen an argumentative essay, then your job will be to convince readers of something with the help of strong arguments or to induce them to perform some action.
Descriptive essays
After receiving the assignment from the professor, ask yourself the question: Do I have to describe something? If so, this is a descriptive essay!
First of all, it is important for you to decide on the object that you will describe. It can be a literary work, any subject, an event in history, a holiday, etc. Much attention should be paid to vocabulary because you will need to use synonyms, metaphors, analogies to visualize the selected object for the reader. You can use different approaches for essay writing, for example, describe an object based on your personal experience.
Compare and contrast essays
Compare and contrast essay can also be called descriptive. You also describe an object or event in the same way, but you focus on differences and similarities. This means that you provide your readers with a detailed point of view on various topics. For example, you can write a paper where you compare the work of Shakespeare and the modern English writer. Most likely, they have a lot in common, but there will also be plenty of differences.
Cause and effect essays
You know that every event in the history of mankind has its own reasons and these are the consequences. Sometimes, one result becomes a consequence of several reasons at once. And sometimes vice versa, there is only one reason, but there are many effects. For example, no one can say for sure why the First World War began. It was an event that had many reasons. And also, it has completely different effects on the United States and other countries. A cause and effect essay is a paper in which you analyze these points, show the ambiguity of any event and the importance of establishing links between causes and effects.
Narrative essays
The narrative essay is a short story. Remember the "Old Man and the Sea" written by Ernesto Hemingway. You need to create something similar. For example, you can talk about your first love, the best day in your life, the most difficult exam. You can talk about an event that changed you and your character. Readers love personal information, experiences. A distinctive feature of the narrative essay is that you do not need to use any external sources. This is exclusively your view of things or situations.
Process essays
This is one of the simplest types of essays. The main thing is that you are well versed in the topic you are writing about. Imagine you have an Italian pizza oven like a real professional. Now write about it! Break the process into several stages, describe the necessary ingredients, kitchen utensils. As a result, you will get a process essay that will help your readers learn from your experience.
Argumentative essays
A reasoned essay is a paper that many students do not like. At first glance, it may seem complicated, but if you write several similar texts, you will understand how to deal with them. Your main task is to conduct a good study, as well as understand the structure of the argument. Some people think that one thesis statement is enough. But you need to reinforce this opinion with actual data and statistics so that it sounds convincing.
Critical essays
This type of analytical essay contributes to the development of critical thinking. This does not mean that you should criticize everything that you see around, but you should look at different things critically. If you think that something was done badly or well, write it in your paper. What was good? What bothered you? Why? Is there any objective evidence for this opinion? Read reviews of popular literary or film critics to understand the mood in which your critical analysis essay should be written.
Expository essays
An expository essay is a paper that does not contain personal opinions or beautiful descriptions. You choose a topic, explain it to the reader using facts, statistics and examples. In fact, this is an informative text, without any emotions. The task may seem easy, but often it is the emotional color that helps to make the text interesting. And just facts may seem boring to the reader. So, think about how you can write an engaging expository essay.
Persuasive essays
Note that a compelling essay has much in common with an argumentative essay. But the differences are obvious. When you write an argumentative one, your goal is to provide the reader with as many high-quality arguments on a particular issue as possible. But you do not set yourself the task of persuading the audience to your point of view, to convince the reader. But a persuasive essay is created just for this. You give arguments, but try to show that some of them are really important and correct, capable of changing someone's opinion.
Essay writing hints
Come up with an interesting topic that will attract the attention of the reader
Do not make your essay too long. 500 words are your maximum if there are no clear requirements from the professor
Use simple vocabulary, easy sentences
Proofread the text to get rid of errors
Prepare a draft and make sure your story has a good organization and structure
Types of hooks for essays
To attract the reader's attention will help not only an interesting topic. This is the introduction task, where you can write a few sentences about your future paper. So which hooks can you use?
Quotes
Jokes
Historical facts
Provocative questions
Riddles
Life stories
In fact, this list is not limited. Turn on your imagination, imagine yourself in the place of the reader and you will come up with an interesting hook.