How to Write an Engaging Introduction to a Persuasive Essay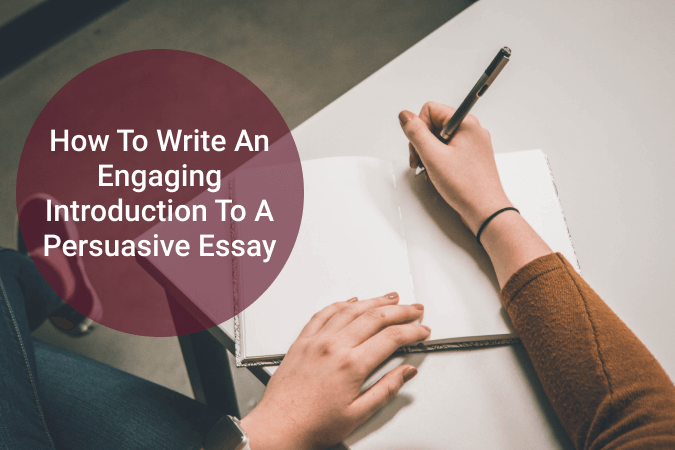 2020-04-23
A persuasive essay is a special type of academic paper that is aimed at convincing readers to share the author's point of view. You need to persuade your readers with the information revealed. It can be difficult to prepare an excellent essay. Often, you need to deal with a very complex subject. If you need to write a perfect paper, be careful with every detail. A proper structure of an essay is essential. It defines the final success of your persuasive essay and the way it influences your audience.
Mostly, writers prefer a 5-paragraph essay paper. It means you need to provide your arguments and supporting evidence in about 5 main paragraphs. Writers put every new argument in a separate paragraph. The essay requires a standard structure that includes an introduction, main paragraphs, and a conclusion. It is important to select strong topics for persuasive essays. Choose a brief and concise subject. It will help you to prepare an excellent final paper with every argument properly explained and proven.
Be ready to spend your time checking your completed paper a few times. You must submit an original and flawless written piece. Pay your attention to the opening paragraph since you need to gather your readers' attention and make them read your entire essay. Assure engaging and interesting beginning of your article. This is the best way to intrigue and to motivate your audience.
Takes only several minutes to buy essay and to hire our experienced authors.
How to Perform a Perfect Persuasive Essay
When you need to perform a perfect persuasive essay, be ready to pay a lot of your time and effort. It can be difficult to write an essay at first. Moreover, you need to pay your attention to every aspect of your paper. In fact, you need to share your point of view where making strong points, use strong words, and convincing conclusions. An attention-grabbing introduction is necessary. It assures the fact that your readers will read the entire essay eventually.
There are many useful tips and guides on how to accomplish an academic task without a glitch. In fact, your writing talents can be very helpful. Be ready to use your analytical abilities as well since the persuasive essay is the type of research paper. This piece of writing requires a profound analysis of a subject. You need to reveal your point of view based on strong arguments and supporting evidence. Further, you must persuade your readers to share your opinion.
You can use various writing tips and guides. The most important is to provide your readers with strong central arguments and relevant up-to-date evidence. You should sound very convincing. Moreover, stay confident with the information you reveal. It will help you to convince your audience that your point of view is the only right one. Be ready to prove all your arguments with strong, relevant, and understandable evidence.
Proper Structure of a Good Persuasive Essay
A persuasive essay has a standard essay structure. Often, writers prefer a 5-paragraph essay format the most. In general, an essay requires a strong and attention-grabbing introduction, informative main body parts, and a short and snappy conclusion.
The opening part of an essay must be attention-grabbing and engaging. You need to announce your topic, provide background information, and a strong thesis statement. Place a central statement in the last sentence of your introductory part. Make it brief and concise. The thesis statement is one of the most significant parts of an essay and remains a central argument of an entire research paper. You need to pay enough attention to prepare a strong key statement.
An essay typically contains from 3 to 5 supporting paragraphs. You need to note down the main arguments and evidence into supporting paragraphs. Write every new argument in a separate paragraph. You should state arguments, important facts, evidence, and additional information in the body part. This is the biggest part of an essay. It contains all the calculations, results of analyses, findings, concepts' revelation, and full argumentation.
A conclusion is the closing part of an article. You should make it short and concise. There is no need to bring new arguments and relevant evidence in this part of your research paper. Summarize your arguments and findings in order to provide a final message. Avoid reminding the same information from the body part. You should bring all central points to a logical ending in conclusions.
Additional Elements of a Persuasive Essay
An essay outline is an important element of every essay paper. It allows you to bring together the entire paper's elements properly and assuring a requested essay format. An essay outline can be used as a writing plan. It allows you to deal with every part of an essay accurately. Moreover, an essay outline makes it easier to come up with every separate argument, its supporting evidence, important facts, concepts, and explanations.
You can write down an essay outline, and use it to organize and format your research paper focusing on the central thesis statement throughout an entire paper. Pay enough time to prepare a good essay outline. The accurate structure is one of the most crucial characteristics of your paper. The college professors and school tutors pay a lot of attention to a proper structure and format of an essay while checking every written piece.
How to Write an Engaging Introduction to a Persuasive Essay
An introduction is one of the central elements of an essay. With a strong and appealing opening part, you can assure your essay's success. A strong intro is aimed at gathering the reader's attention and making people read an entire essay. It can be problematic to perform an excellent opening part. Still, there are a few useful writing tips you can use.
First, use an attention-grabbing hook sentence. Therefore, provide readers with a hook phrase to gain their full attention. It can be a funny fact, anecdote, previously unknown information, quote, or a certain definition. It must be something to keep readers hooked on your paper. Moreover, add background information into an opening part. The last sentence is always a description and explanation of a thesis statement.
Your briefing must be clear, logical, and concise. You need to pay your time and effort to perform a great opening since it triggers the audience's attention. You need to motivate your readers to keep reading a paper. Your main argument overview is also included in an introductory part. Make sure to choose a relevant hook sentence. Be very attentive to transition sentences and phrases you use in your written piece.
There is no need to write down all the arguments and supporting evidence into this part. You will write them down into the main body part. State a brief and informative thesis statement. Always check your paper before submitting it to your tutor or college professor.
Persuasive Essay: Useful Writing Tips and Guides
When you need to write a perfect persuasive essay, be very attentive to the structure of your paper. You need to focus on the main argument of an essay. Focus on the main statement and reveal it throughout an entire paper. Be ready to pay attention to the central argument of your persuasive essay. Use various writing techniques to reveal it profoundly. Avoid using superfluous information and insignificant details. Use a rich language to support your arguments. Be ready to reveal different ideas and convincing phrases. Make sure to support every provided argument with an up-to-date and relevant confirmation.
You can use various quotes, anecdotes, interesting facts, or controversial sayings in order to start your essay effectively. Use any available persuasive tools to support your point of view. Do not hesitate to write down your unparalleled ideas even if they look too provocative. Follow the writing requirements when completing an essay. Be very attentive to details and make sure to check an essay a few times before submitting it.
A good persuasive essay is always an appealing written piece with an engaging beginning, informative main body part, and strong summarizing conclusions. The body part can cover from 3 to 5 supporting paragraphs. Use the writing tips and guides to assure the excellent content of your paper. Always stay confident and quite convincing. Your audience must share your point of view as the only right one. This is the main purpose of your entire essay paper.