How to write an essay about leadership ‒ a comprehensive writing guide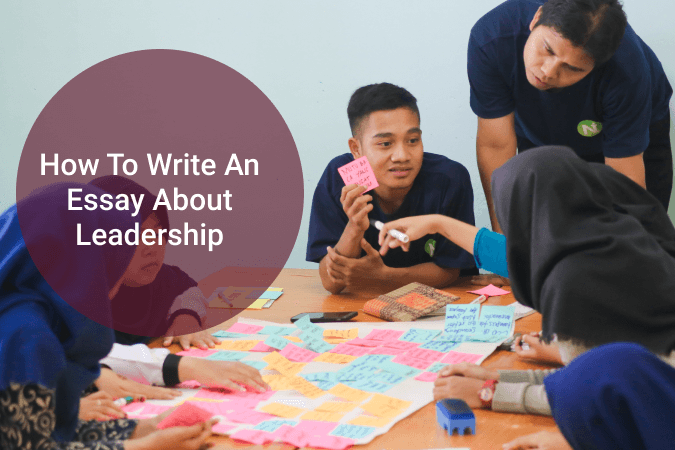 2020-03-31
So, you need to write an essay on leadership. Honestly, this is a very simple task. All you need to do is understand who the leader is, what qualities this person has, and how he or she behaves in certain situations.
This topic is wide enough, so you can debate about whether leadership qualities are innate or acquired, what leadership styles are, what people have had such an impact on you, is it easy to manage the active role, etc. These are just some of the ideas for your essay.
Still not clear how to write an essay fast? Come to us – essay writing service.
Step 1. Define the leadership concept
Of course, you can use the academic definition of leadership or write about your own understanding of general characteristics. In order to argue any point of view, you will need to conduct a review on the Internet or in the local library. This will help expand your understanding of the concept of leadership, and will also serve as inspiration for the writing
Step 2. Come up with a question
Analyze the collected materials and formulate your own definition of leadership. Here are some questions to help you do this:
Do you think a leader needs communication skill?
Does leadership role include the daily routine organization?
Can leaders grow through a hierarchy in a company?
What can prevent a leader from succeeding?
Is it in human nature — to be a leader?
Having the answers, you can easily determine your definition.
Step 3. Elaborate outline
Any undertaking requires a good plan. You have many interesting thoughts and ideas, but they need to be structured. Write all your ideas on paper and make up a consistent line of thinking. Highlight the most important statements that will become the core of your leadership essay.
Step 4. Think about your leader role
Even if you are not an extremely significant leader and do not work in an organization, you can use your leadership skills in everyday life. Give examples about your family and friends, tell us about volunteer projects. Personal experience should be detailed and specific, as the details add credibility and make your paper more convincing.
Step 5. Remember some additional leaders features
If you keep in mind that leaders are quite innovative and have a unique perspective of things, you can give more illustrative examples. You must understand that this is not only about the leadership role at huge corporations and real gurus. Children and adolescents also need these general characteristics: to present their ideas, to confront a bully, to fight their fears and make new friends.
Writing a paper, think about different points of view for your issue.
Step 6. Writing the essay on leadership
So, you have covered a lot of grass, analyzed various leadership cases and are ready to write the leadership essay. Of course, this topic is very interesting and fascinating, but the structure of the paper is the same as in other cases. You need to write a good introduction, formulate abstracts, find arguments and take stock.
Introduction of the essay: start with the hook
Any academic paper begins with an introduction. This is what helps you introduce your topic and key findings. But do not rush to dessert. Use a wiser approach. For example, you can describe a difficult life situation that has become a real challenge for you and helped to take an active role. Such an extremely significant hook will attract the attention of the audience.
Define your thesis statement
A thesis statement is what determines the essence of your essay. It may vary depending on the topic. For example, if you disclose leadership qualities, formulate one sentence about human nature.
Or if you want to show that leaders don't always achieve excellent result, to describe what failures they have to face, you can write "Leaders cry too." One sentence is enough to convey the main idea. But it is not always easy to find this brief and succinct phrase. Work on it.
The body
A good leadership essay body consists of 3-5 paragraphs. Each of them should be devoted to a new aspect, a unique point of view. Write out 3-5 ideas, prepare a thesis statement for each of them, and then illustrate it with arguments.
Transitional sentences will help to combine ideas from different paragraphs. So your essay will look more solid and interesting.
Conclusion
Many students start writing an essay with a conclusion. This is the paragraph where you summarize all your ideas.
Here is a good tip for writing an effective conclusion: At the very beginning, when you see only an empty sheet of paper in front of you, think of the purpose of your essay, of the controversial issue. Not just get an A-grade, but convey an idea. For example, inspire a person to an active role. Or improve someone's self-esteem. In the end, you can analyze whether you have succeeded. Use a compelling CTA to call it a day.
Tips on writing brilliant papers
Think out of the box. Leadership is often associated with clichés, so you need to surprise your readers. For example, you can explore the life of a person whom you consider a leader. Explain what challenges he or she has to face, offer a controversial issue.
Use an active voice. The text sounds stronger and more convincing.
Get inspired, but don't copy. Read examples of good leadership essay. This will help you understand what you do not need to write about, and which topics, on the contrary, need coverage.
Remember the proofreading. Wait a few days and read the essay again. Get rid of all the inconsistencies, mistakes, typos, plagiarism. Make sure your paper is flawless and inspiring.