How to Write a Response Paper – A Step-by-Step Guide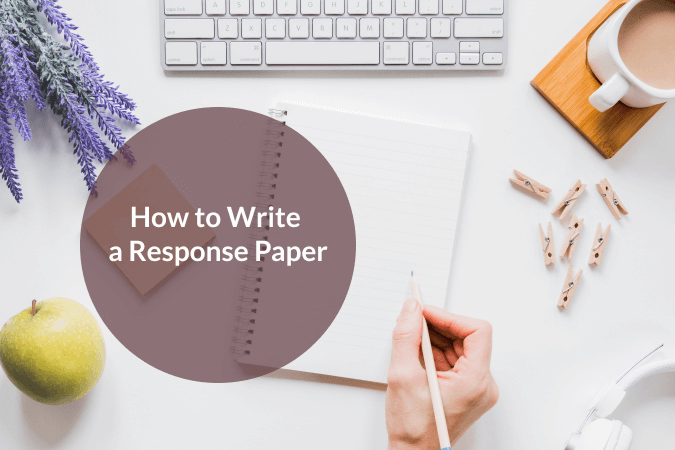 2020-02-03
You are likely to write a response paper each semester. For that, you will be asked by your professor to make a movie review or read a book. So you will need to be able to provide them with your reaction paper in detail and summarize the main ideas. Therefore, you are to be aware of how to write a reading response paperwork.
Writing a response paper, you will need to select a professional and impersonal voice. Note that there is a difference in writing reaction response essays and formal review. For instance, in response essays, you should use the 1st person. It might be rather challenging to write a response or reaction essay so you can use professional help.
Here you can buy research paper online, coursework or custom term papers.
What Things Are Needed before You Start the Writing Response Process
First of all, you will have to read the text several times before completing the assignment. Prewriting, you will have to jot down the things you find essential. So you will have a basis out of your notes when reading. At this step, you do not have to worry about the way the ideas are organized.
1. Pick up a Topic
Find the things you think are interesting in your life experiences. Ask some questions to the text you have already read when you write a response report. For example, you may ask these questions:
 Did I understand the text well?
 What detail example do I remember?
 How do I react to certain things?
What is the most significant of the book?
Try to make your topic as informative as possible. Select something you find the most interesting.
2. Reading and Responding
At this step, you will have to reread the text for better understanding. Secondly, you will need to mark those things which impressed you in the version or which captured your attention. Thirdly, glance over the marked notes and formulate your reaction ideas. Fourthly, record your intentions. The fifth step will be formulating a strong thesis statement. The following thing you will have to do is compose a solid outline. The last but not least step is generating the reaction essay.
3. Writing The Initial Sentence Paragraph
Hook the readers with a capturing intro in a strong introductory paragraph sentence. Notify your readers about the book or article you are writing a reaction to. Include the name of the author and title of the work. Utilize an introduction to state the main idea of your response papers with a thesis statement.
4. Write the Essay's Body Paragraphs
The body of the essay is placed directly after the introduction. It is a section where you should discuss the subject intensely. To divide ideas, you should utilize precise and short paragraphs. Begin each item with a topic sentence. There must be pieces of evidence and consistent arguments. Reaction essays are rather long. So you won't need a heading everywhere unless your professor demands it.
5. Conclusion
The last paragraph of the reaction essay is usually a conclusion. In this part, you will have to summarize the main ideas and draw some inference. Make sure your conclusion is informative and brief, writing a summary of the work. It should leave the reader aware of the answers to all the questions they might have. No new information should be present in this section.
6. Proofreading and Editing
Proofread and edit each sentence of your draft. For that, you may leave your paper for a day and then go back to it to find the possible mistakes. When editing, you should change formatting, structure, and contents. When proofreading, you should identify any spelling and punctuation errors and then correct them.
Additional Tips to Take into Consideration
To help organize your thought, make a detailed outline. When you have an appropriate working plan, you won't miss any detail.
Begin to write an essay only when you have made an in-depth literary analysis and your personal experience. Google and brainstorm the ideas and ensure the intro is catchy.
Notify your readers with the name and author of the book you are writing a response to, for example, quotation marks.
 Find an example of a reading response to build your own based on the template. Tell the reader whether you agree or disagree. Deliver the reader with your reaction.
 Make sure the conclusion is definite.
Sample Statements
Writing a reaction or response paper, use these statements:
In my opinion;
I felt that tattoo;
 The author seems to;
 The reader can conclude that life;
 This aspect didn't work for me because;
 I did not like the material;
 The author was [was not] successful in making me feel;
 The images seemed to;
 I didn't understand the connection between;
 I was especially moved by;
 The soundtrack seemed too;
 It was clear that the artist was trying to;
 My favorite part of the way was…because.
You will have to try hard writing a response essay. However, if you feel weak to do it, you may always use professional assistance service in academic work to help you generate a suitable response paper.