How to write a strong conclusion for your essay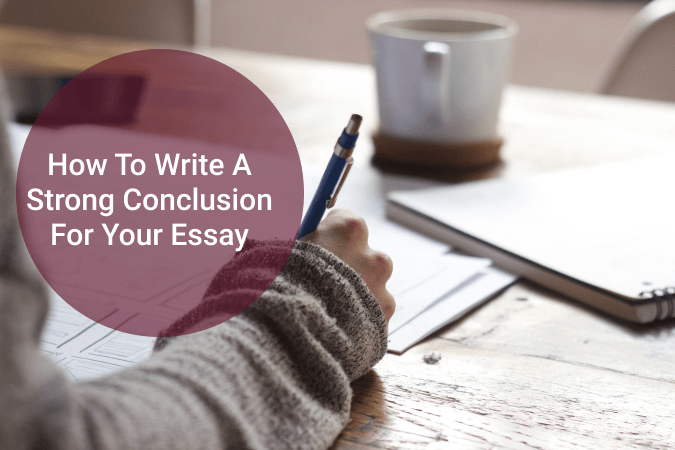 2020-04-09
Think of the end of the essay as a bow on a beautifully wrapped present. It brings everything together and leaves an outstanding aftertaste. In your final part, you must summarize everything that was mentioned in your essay. You can make it quite provocative or inspiring.
So, how to write a conclusion for an essay that will be like a cherry on the cake? Read our tips!
Takes only several minutes to get help and hire our experienced paper writers.
What is the conclusion of an essay?
The definition of the essay conclusion is very simple: this is the last paragraph of your essay or other paper. You can no longer use new ideas, but you can generalize your thesis statement and arguments. This paragraph forms a feeling of completeness and satisfaction in the reader.
Why do you need to know how to end an essay
Just like an introduction, this is the only way to make a first impression, an essay conclusion will help you put a full stop. Just imagine, the audience read your essay and now it has a question: So what? It is you who must provide an answer to it, otherwise, readers will feel frustrated.
Thus, the tasks of your essay conclusion are as follows:
Give your audience food for thought after reading your essay
Write your paper logically complete
Say goodbye to readers on a positive note
It is easy, all that is required of you is to rephrase the thesis and draw conclusions about your essay.
Conclusion Paragraph Outline
Of course, you already have a plan for your essay. But you need one more: for the conclusion paragraph. And here are the main aspects that you will include:
Topic sentence
Rephrase your thesis statement or write the new one, that is connected to your topic. Don't create new ideas.
Supporting sentences
Pass on the main arguments to your essay and explain how they fit together.
Good closing sentence
It can be a convincing sentence, a provoking or intriguing question, a hint of a new essay. People need something to think about, and you can inspire them with your closing sentence. Imagine, that you have a goal at the early beginning. Your last words in the essay are your last chance to achieve your goal. Don't miss it.
Essay structure
If you imagine the good essay visually, it will look harmonious and interconnected. Each part in its place and logically complements the previous one.
What to include
Many experienced writers advise starting essay writing with a conclusion. You know your goals, questions that you want to get an answer to. And you can make it out in the last paragraph. If you see that some ideas require a wider disclosure, you can return to them in an essay body. When you write your last sentence, it will be easier for you to come up with the rest of the text that is leading to this final thought.
Top strategies to use for writing paper conclusions
We have prepared some useful strategies for you. Leverage them to make your essay conclusion as good as possible.
Echo
If you have already written an introduction, you can use the same text to surprise the attention of readers.
For example, you begin to tell a story about how you decided to become a teacher. In your introduction, you write how you spent time with friends, explaining some things to them, finding an approach to them. The main part of your essay will be devoted to your work on yourself, the main lessons of life, challenges, and difficulties.
What will be the final paragraph? Here is an example:
Now I do not need to close my eyes to imagine my teaching career. Every day begins with the fact that I see children who are ready to absorb knowledge. When I tell them how the world works, I recall those "lessons" from my childhood and understand that I am in my place.
Prediction
Do you want to surprise your readers and give them food for thought? Try to look into the future when you conclude an essay.
Here is an example of a good essay conclusion:
Some people believe that corruption can be justified in some cases. However, we should not seek excuses for this phenomenon, approve of it. If we want to build an honest and open world without deception and fraud, we must abandon corruption right now.
Step-up
If you want to show your readers a new perspective on the problem, you can strengthen the main meaning of the essay by presenting it in a wider context.
Here is an example:
Sports activity is what helps to make each person's life more enjoyable and healthier. So, we must work to ensure that the sport is affordable and safe. We must consider how to reduce the number of sports injuries.
Concluding strategies that do not work
Avoid simply retelling the thesis. A common problem with many conclusions is that they simply retell the thesis and summarize what was already discussed. This does not give readers a convincing reason to familiarize themselves with the last part of the paper — they already know what they will be reading about.
Do not use quotes. Usually, there is no need to complete the essay with a quote or analysis – this is what you should have done in the main part of the essay. A conclusion paragraph is a place where you bind everything together and do not enter new information
Do not use high-flown language. Don't get too carried away with pompous or secondary words in the ending. The essay should be pleasant to read and discuss, and not boring and ossified. It's best to use a clear, accurate language, rather than incoherent long sentences stuffed with words.
Do not introduce new material at the end. Now is not the time to present new ideas or content. This distracts attention from the original idea and can confuse the reader.
Some examples of essay conclusion
There are some examples that may refer to any type of essay:
In conclusion, it is impossible to say unequivocally whether people must vote in the presidential election or not. Each person has one's own point of view and his arguments. If you trust the candidate, want to support and help, you should vote.
My verdict: there is a certain correlation between the way students spend their free time and the way they study. I studied several studies that helped me come to this opinion.
 If you imagine your future in 5 years, you will surely see yourself as a completely different person. But big goals always start with small ones. And you should already think about tomorrow so that your imaginary future will one day become a reality.
Persuasive essay
Your main task is to formulate a point of view and convince the reader of it.
In the essay conclusion, you must show that you succeeded.
Here is an example:
I believe that euthanasia must be legal everywhere in the world. Patients should not suffer before their death. In my essay, I showed that medical workers provide tremendous help to patients, helping them to get rid of the inevitable suffering.
Analysis paper
If your paper's purpose analyzing a problem, write some sentences to conclude an essay.
Here is an example of a good conclusion paragraph for your inspiration:
After analyzing the article, I realized that there is no single correct answer. Each participant in the discussion looks at the problem in their own way. The girl's dad understands that time is very important, although this is an intangible resource. Steven suggests washing paper cups while preserving material resources. Each of these resources has its own importance and value.
Narrative essay
A narrative essay is a paper in which you present an opinion on a topic. In your essay conclusion, you should simply summarize.
Here are some good examples of how to conclude an essay.
This study has fundamentally changed my attitude. I realized that fast food affects our health very much. If you reduce the amount of its consumption, you can reduce the risk of many diseases and improve your well-being.
In 1941-1960, women really suffered from the spirit of masculinity. They had to go through a lot to show society other female roles and images of sexuality. Many homes and children were left without mothers, but this was a real revolution.
By claiming their rights, women hoped to get more freedom. In some countries, this has led to the opposite result. Today, women work alongside men, but they housekeeping and raise children alone.