Tips and Guides to Make an Essay Longer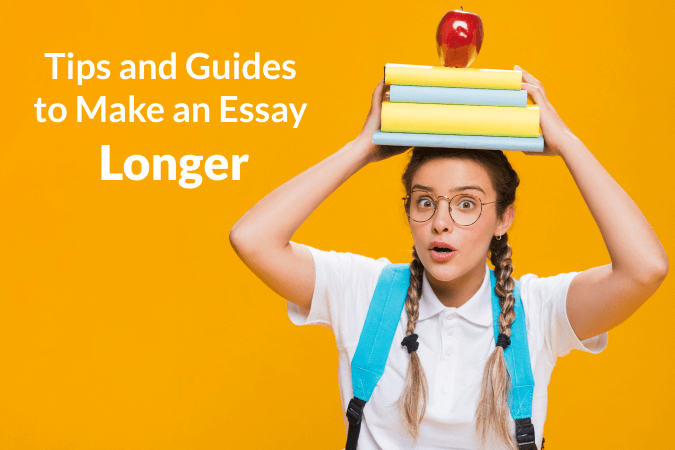 2019-07-29
Academic writing is both difficult and interesting activity. Moreover, when you know how to prepare an excellent and flawless piece of writing, it becomes quite a pleasant challenge. In the same time, academic writing requires strong writing and analytical skills. You should always follow the requirements and instructions provided by your tutor or college professor. Every requirement must be strictly followed. It includes a proper format, structure, fond size used, etc. The length of the written piece also matters. You should write a paper of the required size and length in order to get an excellent grade and improve your study ratings.
Tricks to Make an Essay Longer
Often, once providing all the arguments and supporting evidence, you can still lack a required number of words. There are many tricks and tips, which can help you to make your paper longer. Therefore, if you need to increase the size of the written paper, make sure to follow the next recommendations. The following guidelines will help you to improve your paper once assuring every page requirement's succeeding.
Seeking essay writer service? – EssayUp.com is just the right place!
Words to Make an Essay Longer
If you want to increase the length of the text, you should use transitional words. These words are mostly used to outline the connection between a few parts of the sentence. Make sure to use the following words to lengthen your paper:
Likewise;
In condition;
According to;
Whereas;
Therefore;
Thus;
Of course;
Depending on;
However;
Despite;
Firstly/secondly;
As a matter of fact;
Because of;
Indeed;
With regards to;
As a result;
Under certain circumstances;
In light of;
Equally to;
In conclusion.
You can use any other transitional words or phrases to increase the number of words in your academic paper. Make sure to use the words and phrases, which can make the written text a single piece of writing.
Use Quotations
You can use various phrases and sentences related to your topic. Quotations take a lot of space and can be very informative, when you deal with a research paper, for example. This is the top way to make a paper longer and to show how other writers were paying attention to the topic revealed in your paper.
Use multiple examples
It is great to use various practical examples when writing a paper. Often, tutors require a list of proper examples to support the main arguments and your point of view. You should use as many examples as needed to prove that your point of revealed in a topic sentence is accurate.
Format your paragraphs
You can easily change the number of words in the text once formatting your paragraphs. With such an aim, you can change line spacing and font type or size. Use double spacing to make the text looks bigger. You can also choose font type and size other than the traditional times new roman 12. Still, while increasing the font, you will make the text looks bigger, but it won't influence the number of words counted.
Use more words and phrases
You can use more words and phrases. When you use a page count algorithm, you can add as many words and phrases as needed. Just make sure every word used is related to the topic revealed. Use simple language and understandable phrases.
How to Lengthen an Essay of a Particular Type
When you need to increase the number of words in the text, make sure to check what type of essay paper you are dealing with in advance. When you prepare a 500-word essay, you can find enough words to use, but when the paper is bigger, you may need to use a few tips.
Narrative essay
This type of essay requires your personal thoughts and experience. You can use as many additional words and phrases as needed. Since you are the one to choose the topic, you also select the way to tell your story. You can add any transitional words, examples and personal explanations.
Argumentative essay
An argumentative essay requires numerous examples, their explanation and supporting evidence. You can use quotes and explanations of other writers and researchers. Moreover, pay attention to evidence, and try to demonstrate your point of view in details using any needed words and words combinations.
Review
A review requires numerous details about the analyzed subject to be revealed. Thus, you can use various transitional words, concepts and their explanation, parts of other writer's reviews related to your personal review, numerous quotes, etc. You can also add statistics and ratings.
Other essays
In fact, every properly written essay requires a requested number of words. Thus, make sure to write a paper according to the requirements provided. You can use various transitional words, quotes, evidence, explanations, and concepts related to your paper's topic.
Conclusions
Every academic paper has its requirements, thus make sure to follow a proper paper's format, structure, and length. In order to provide a needed paper's length, you can use various transitional words mentioned in the article, quotations, numerous examples, and concepts related to the topic revealed in the paper.